Walkable Community Workshops
You are invited to attend the Ardens Walkable Community Workshop!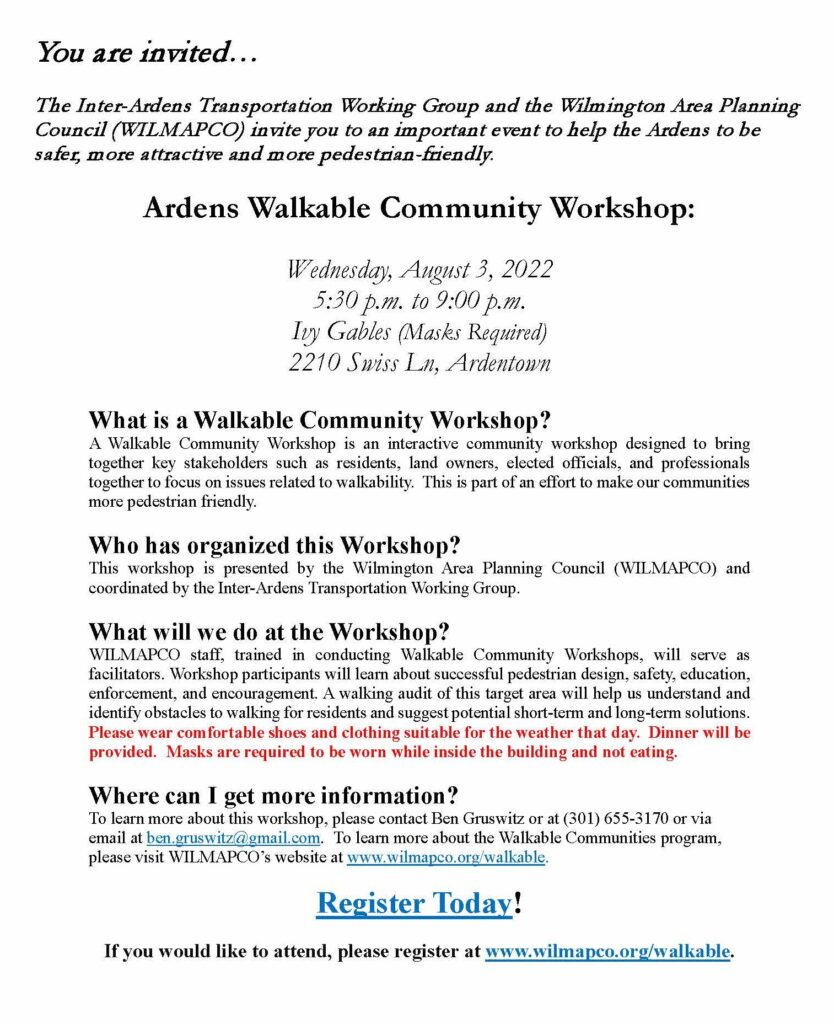 What is a Walkable Community Workshop
Walkable neighborhoods and communities are vibrant and livable places that give their residents safe and active transportation choices.  Increased walkability helps to improve safety, physical fitness and social interaction, and enhances overall quality of life.
Walkable Community Workshops are interactive events that bring together residents, elected officials, advocates, public agency staff, public health practitioners, educators, planners and engineers to focus attention on making your community safer and easier to walk in. Workshops will provide information on how we can turn our communities into the kind of pedestrian friendly places we all like to experience.
More about the Workshops
Why get involved in the Walkable Community Workshop?

Through the program, we will identify real-world problems and hands-on solutions for your community.

Where do the workshops take place?

Any city, town, unincorporated community or corridor where people want a safer, more attractive route for walking.

What happens at a workshop?

During a four-hour workshop, participants will learn about the elements of a walkable community and solutions to common issues. Instructors then lead a walking tour of the study area and emphasize seeing the community from the perspective of a pedestrian. Participants identify specific measures to improve conditions for pedestrians and priority actions they can take to create a more walkable community.

Who leads the workshop?

A key to the success of the workshops are the instructors.  National experts from diverse backgrounds and fields of work, including planning, transportation engineering, public health, and pedestrian policy have trained WILMAPCO staff, as well as spent a week in Delaware working directly with our communities. They have highlighted ways in which land use and transportation affect walking, health, physical activity, and livability.

How to apply?

If you or your community would like to participate in this unique and exciting program, please complete the

application

form. If you have questions, please contact Randi Novakoff at

rnovakoff@wilmapco.org

or (302) 737-6205, Ext# 111.

Workshop Cost?

Free!
Reports
Presentations
Walkable Community Workshop Resources