Churchman's Crossing Plan Update

About the Study
WILMAPCO, DelDOT, and New Castle County Department of Land Use are developing a comprehensive update to the 1997 Churchman's Crossing Plan.  Details of the 1997 Plan and subsequent monitoring efforts can be found below.  The current Churchman's Crossing Plan Update will include new recommendations on transportation improvements, land use strategies, and transportation demand management (TDM) strategies.  The Churchman's Crossing Plan Update will take a little more than one year to complete, with anticipated completion in Fall 2021.
March 3, 2021 – Public Workshop #2 
December 2, 2020 – Advisory Committee Meeting #1
September 16, 2020 – Public Workshop
 – September 16th Workshop Presentation (PDF)
 – Time Lapse Animation of Travel Times (from presentation)
 – Public Workshop Recording
 – Interactive Map of Current Transportation Conditions from 9/16 Workshop
 – New Castle County Land Use Residential Toolbox Website
Workshop Poll Questions and Chat Log:
– Poll Questions (Live/Work/Play & Mode Share)
 – Word Cloud Exercise #1:  What is most valuable about Churchman's Crossing now?
– Word Cloud Exercise #2:  What is most needed in the next 20 years?
– Workshop Chat Log 
Additional Outreach
Public outreach for this project began with stakeholder interviews held this summer, including elected officials (state and local), members of the business and development community, community and civic leaders, environmental advocates, and other institutional leaders, and one-one-one and small group interviews. The intent of the interviews is to better understand the short- and long-term concerns, opportunities, and challenges facing the Churchman's Crossing area.  Your thoughts are welcome.  If you'd like to submit a comment or have any questions, please email Randi Novakoff at rnovakoff@wilmapco.org.
Study Area
The Churchman's Crossing area continues to be a vitally important economic growth area for New Castle County and the State of Delaware with its location along the I-95 Corridor between Newark and Wilmington.  Significant commercial and employment centers are found in Churchman's Crossing, which was formerly known as the "Edge City" of Metroform.  The project boundary is a modified version of the "inner core" boundary identified in the 1997 Plan and the 2004 Update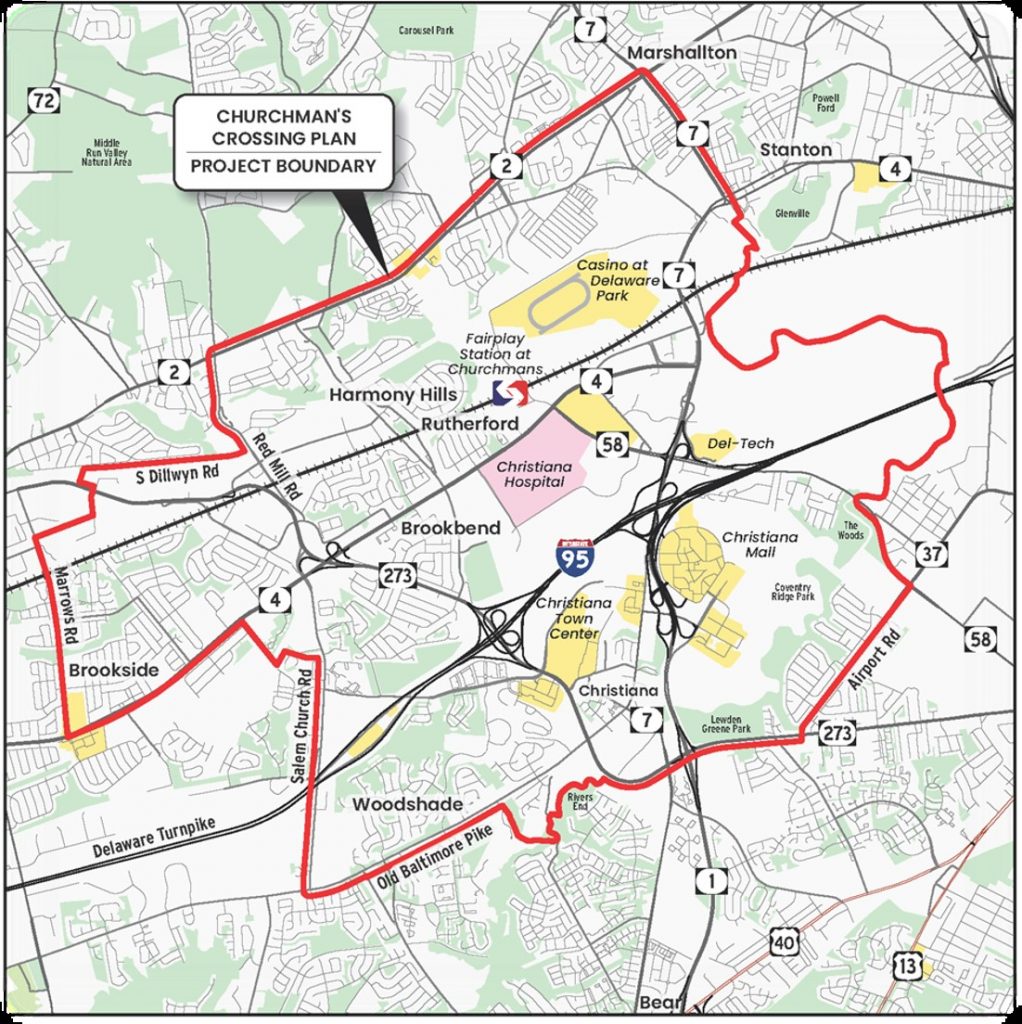 Since 1997, there have been several changes to the residential and commercial development patterns in Churchman's Crossing, altering the landscape of the area in ways that were not anticipated by the 1997 Plan assumptions.  These changes include expansions at the Christiana Hospital, Delaware Park & Casino, J.P. Morgan Chase & Co. and numerous changes near the Christiana Mall.  The transportation elements identified as part of the 1997 Study have also gone through some modifications.  As a result, there is a need to analyze future transportation improvements based upon an updated land use plan and forecast, using measures that can better assess the effectiveness of the full transportation system, whether its roadways, pedestrian and bicycle facilities, and/or transit facilities.
Consensus building and establishment of stakeholder support for the Plan are key elements in this process.  This will be accomplished through a facilitated stakeholder outreach process that includes a stakeholder listening tour, advisory and management committee meetings, and interactive public workshops.  The resulting report will be developed using a collaborative and integrated approach to transportation decision-making that considers environmental, community, and economic issues early in the planning process.
Sign up for Project Updates!

Previous Plans and Monitoring Documents