Route 9: It's About Time
Implementation Efforts
Route 9 Paths Plan
The Route 9 Paths Plan will further develop the concepts for new walking and biking neighborhood pathways proposed in the Route 9 Corridor Master Plan. While these concepts were derived from community feedback and enjoy strong community support, they are high level ideas that would benefit from further thought, detail, and public outreach. This plan will propose a network of walking and biking pathways in the Route 9 Corridor, including on-road connections, off-road connections between neighborhoods, and low-stress neighborhood streets with mixed traffic.
Route 9 Corridor Health Needs Assessment
The purpose of this needs assessment was to bridge the gap between the information existing and the community member's perceptions of health and well-being as it relates to social determinant issues. The information gathered is an attempt to create better guided interventions to maximize the health, safety, and economic well-being for all residents in the community.
Click here to read the report.
Route 9 Health Action Plan Progress and Updates: April, 2023
In Spring 2021, a community health needs assessment was administered to try to gather information on perceived needs impacting the health and wellness of residents along the Route 9 Corridor. This survey had 104 respondents representing the various neighborhoods. The responses were analyzed, themed, and presented to the Route 9 Health Subcommittee to use in the development of an action plan to address the needs.
Click here to read the report.
USDOT RAISE Planning Grant FY 2022 – Route 9 Redefined
The Route 9 Redefined project will develop 12 capital transportation infrastructure recommendations of the Route 9 Corridor Land Use and Transportation Plan from study level concepts  to  the  preliminary  design  stage.  Further,  it  will  identify  which  of  those  12  projects  can  continue  on  to  final design.
Click here to read the grant application.
Community Development Corporation Feasibility Study
With a grant from Healthy Communities Delaware (HCD), we studied the feasibility of establishing a Community Development Corporation (CDC) along the Route 9 Corridor, including Southbridge.  A new CDC, which could both absorb ongoing community development work and better drive equitable redevelopment, is feasible here.  We plan on using the next round of HCD funds to work on establishing the CDC in 2021.
Click here for the Final report
Click here for the July 2021 public workshop presentation
Transportation Project Prioritization
The Route 9 Transportation Project Prioritization was  endorsed by the Route 9 Monitoring Committee in July 2018. This process helps guide DelDOT to rank, design, and construct projects in order of priority.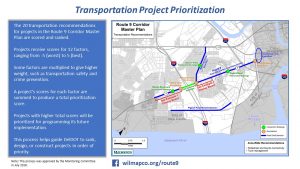 Safer Crossing at Ryan/Revis Avenue at Rt. 9
Following the tragic death of Mr. Lynch at this intersection in November 2019,  DelDOT and Rep. Frank Cooke have worked closely with the Rt. 9 Monitoring Committee on a safety upgrade.   After considering different options, in March 2021 DelDOT installed a Rectangular Rapid Flashing Beacon here.  Activated by a walker when they are ready to cross, the beacon flashes — signaling motorists traveling in both directions to stop and allow for the walker to cross.  Find out more about how the beacon works here and tell a friend!: RRFB Information.
Memorial Drive Road Diet
DelDOT is implementing a road diet (What is a road diet?) along Memorial Drive, as proposed in the Master Plan and supported by the McCullough Safe Routes to School Program.  More info:
Project website (link: https://deldot.gov/projects/archived/MemorialDriveRdDiet/)
Concept design (link: https://www.deldot.gov/projects/Studies/MemorialDriveRdDiet/pdfs/Conceptual-Improvement-Map.pdf)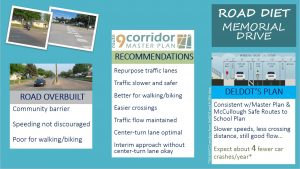 Small Scale Walking and Biking Projects
The R9MC has supported DelDOT with Transportation Alternative Program (TAP) projects around the Route 9 Library and Eisenberg and McCullough schools.  These projects help make walking and biking safer and implement the Route 9 Master Plan.  Learn more!  Project website: https://deldot.gov/projects/index.shtml?dc=details&projectNumber=T202069004; Video:  https://www.youtube.com/watch?v=GbaKvpCdSsI
Final Resident Survey Report
A residential survey was performed on January 25, 2019 to evaluate environmental concern and attitudes towards relocation, rezoning, and revitalization in two New Castle County, DE communities: Eden Park and Hamilton Park.
For more information, please see the Final Resident Survey Report.
Get Involved!
More information
Bill Swiatek, AICP, Project Manager
Email: bswiatek@wilmapco.org
Phone: (302) 737-6205 ext. 113
Address: WILMAPCO, 100 Discovery Blvd., Suite 800, Newark, DE 19713
Other Links