What's New
The latest draft of the Route 9 Corridor Master Plan has been released for public review! Click the cover image below to view the low resolution version (13mb) or view the high resolution version here (107mb).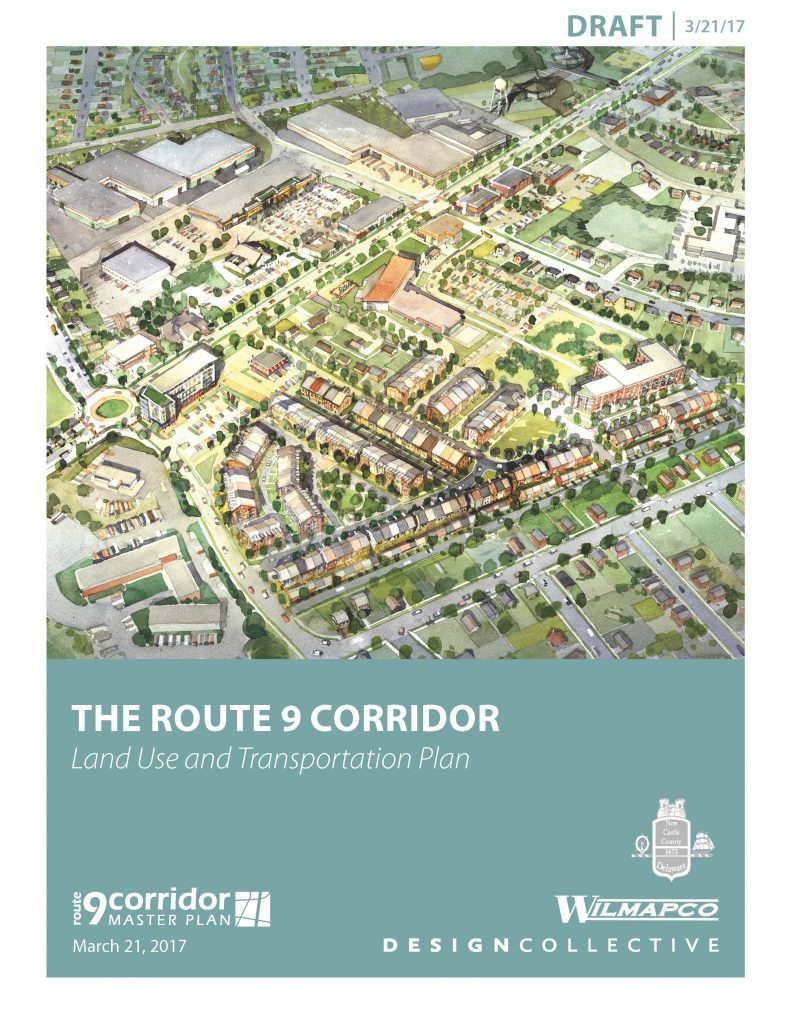 We will be collecting additional feedback on the draft Plan through the month of April and are hoping to finalize it in May.  We are still working on the last chapter, "Next Steps" which will identify path forward to implementing the recommendations of the Plan.
If you have any thoughts on the draft Plan, or have any public meetings or events we could present it at, please contact Bill Swiatek at: 302 – 737 – 6205 x113 or bswiatek@wilmapco.org or Jake Thompson at: 302 – 737 – 6205 x116 or jthompson@wilmapco.org.
Introduction
The Route 9 Corridor Plan will identify the best reinvestment and redevelopment strategies for Route 9.  Initially, we are looking at the 3-mile stretch of corridor between the City of Wilmington and City of New Castle boundaries. Key focus areas include:
Improve access to jobs, healthy foods, recreation, education, community services, and affordable housing
Promote mixed-use and mixed-income redevelopment
Mitigate environmental and health concerns
Examine land uses and recommend zoning adjustments
Recommend roadway improvements that promote the use of alternative transportation and manage truck traffic
Check out the Project Scope for more details and the Site Plan for a map of the area. For background research consisting of demographic, land use, transportation, and environmental maps of the area, see the Task 1 Map Series (150mb).
Introducción
El Plan del Corredor Ruta 9 identificará las mejores estrategias de reinversión y de reconstrucción de la ruta 9. Inicialmente, estamos buscando en el tramo de 3 millas del corredor entre los límites de la ciudad de Wilmington y la ciudad de New Castle. Las áreas de enfoque incluyen:
Mejorar el acceso a puestos de trabajo, alimentos saludables, la recreación, la educación, los servicios comunitarios, y la vivienda asequible
Promover el uso mixto y la rehabilitación de ingresos mixtos
Mitigar las preocupaciones ambientales y de salud
Examinar los usos del territorio y recomendar los ajustes de zonificación
Recomendar mejoras viales que promuevan el uso de transporte alterno y gestionar el tráfico de camiones

Steering Committee
The Steering Committee is responsible for providing overall direction to the study.  The committee includes the following (all invited):
All Area Civic Associations
Meetings and Workshops
Note: Prior to May 2016 the Steering  Committee was comprised of two separate bodies  –  an advisory  committee and a management committee.
Steering Committee, February 21, 2017: Packet, Eden Park Air Quality Study (DNREC Presentation)
WILMAPCO Council Meeting, January 12, 2017: Presentation (13mb)
Second Public Workshop, November 29, 2016: Presentation (10mb), Boards (90mb)
DE HEAL Environment and Policy Committee, November 15, 2016: Presentation
Steering Committee, November 3, 2016: Notes, Packet, Presentation
Steering Committee, September 15, 2016: Notes, Packet, Presentation
All Civics Meeting, July 27, 2016: Presentation
Steering Committee, June 9, 2016: Notes, Packet, Revised Advisory Committee Minutes, Presentation
First Public Workshop, May 24, 2016: Presentation (8mb)
Advisory Committee, April 14, 2016: Packet, Presentation
Management Committee, April 14, 2016: Notes, Packet, Presentation
Advisory Committee, February 23, 2016: Notes, Packet, Presentation (17mb)
Management Committee, February 23, 2016: Notes, Packet (166mb), Presentation (37mb)
Management Committee, January 13, 2016: Notes, Packet (127mb), Presentation
Management Committee,  September 29, 2015:  Notes, Packet
Study Components
Comments
Interactive Summer Outreach Map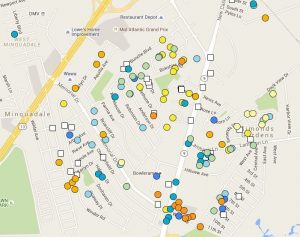 When reaching out to residents and business owners at events and community centers, we invited people to share what neighborhoods they live or work in. This interactive map shows which neighborhoods were represented at each outreach event. To view points for each event separately, use the checkboxes on the left side of the screen.
Get Involved!
You can submit additional comments about the Route 9 Corridor Master Plan by completing the form below.
More information
Bill Swiatek, AICP, Project Manager
Email: bswiatek@wilmapco.org
Phone: (302) 737-6205 ext. 113
Address: WILMAPCO, 850 Library Ave., Suite 100, Newark, DE 19711
Links