Regional Progress Report
What's New?
The 2022 Regional Progress Report has been approved. To review the report, click on the image below.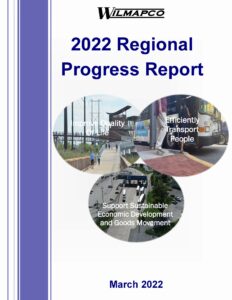 The Regional Progress Report tracks the fulfillment of our Regional Transportation Plan (RTP).  Providing performance indicators for each goal and objective found in the Plan, it uncovers which actions are moving forward and which are not. Comments or suggestions about the draft report can be emailed to Bill Swiatek at bswiatek@wilmapco.org.
Report Downloads