What's New?
Click on the image below to see our video about transportation justice.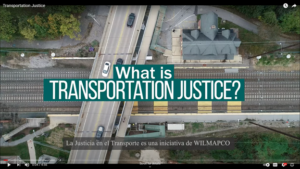 The 2019 Transportation Justice Plan was endorsed by Council in September 2019.  Download a copy today!

Media Coverage & Features
Introduction
Our Transportation Justice (TJ) initiative identifies key social inequities in the Wilmington region's transportation system. We examine the fairness and inclusivity of the existing and planned system, as well as our public engagement processes. Recommendations are
made to overcome observed barriers and inequities.
Our TJ initiative exceeds several federal statutes and initiatives: Title VI of the Civil Rights Act, Environmental Justice, Language Assistance, and the Americans with Disability Act. 
As an agency, we are committed to incorporating Title VI throughout our planning process.  Contracts with third-party firms, as well as our personnel manual, feature all federally-required non-discriminatory clauses and Disadvantaged Business Enterprises (DBE) assurances.
Interactive Map Series
Several of the maps in the 2019 Transportation Justice Report are also available as online interactive maps, via the links below.
2019 TJ Plan Development – Meetings/Presentations
Report Downloads
2019 Transportation Justice Plan: A Title VI, Environmental Justice, Americans with Disability Act, and Language Assistance Plan for the WILMAPCO Region
– Full Report (17 MB)
2020 Urban Technology Desert Data Report for the WILMAPCO Region
–  Full Report (1 MB)