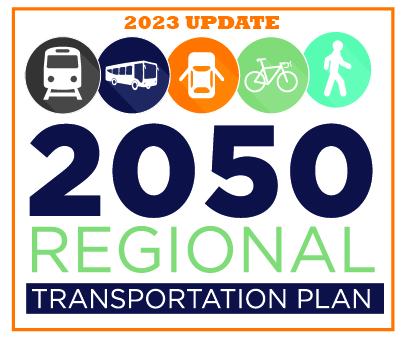 2050 Regional Transportation Plan 2023 Update

Have you ever wondered what it would be like to get around in New Castle County, Delaware or Cecil County, Maryland in the next twenty years?  How congested will it be? Will you be able to walk or bike safely, and use public transportation? What types of transportation improvements should be the priority? These are the types of questions that are at the heart of the 2050 Regional Transportation Plan (RTP) 2023 Update, which was approved by WILMAPCO's Council on March 12, 2023.
Click below to view the document.  
What is an RTP?

The Regional Transportation Plan (RTP) is one of our fundamental transportation planning documents. It identifies the region's long-term transportation needs, and the projects and activities that seek to address them. The RTP extends through at least two decades, and the projects it calls for must be financially reasonable (based on anticipated revenues) and meet air quality standards. Only transportation projects found in the RTP are eligible for federal funding. It is a living Plan, subject to continual revision (at least every four years) and a tool for informed transportation and policy decisions that reflect public views.
Whats new in this version?
Several tweaks to the RTP's policy section are proposed as part of this update.  Given the recent rise in crashes and fatalities, one new action will support the development of a "Vision Zero Plan" for New Castle County.  Vision Zero seeks to eliminate all traffic-related deaths and severe injuries, while increasing safety, health, and mobility for all. Increased emphasis in the RTP will also be given to supporting national defense preparedness and data sharing, both in step with fresh federal guidance. And stronger emphasis will be placed on reducing carbon emissions via a new performance target for lower vehicle miles traveled by 2030.
A financial forecast was made to help identify which of the hundreds of possible transportation projects could be pursued through 2050.  Some $4.7 billion is expected to be available for transportation projects in New Castle County through 2050 and $172.3 million in Cecil County.  While that is a great deal of funding, most of it will go towards the funding of projects identified in the current RTP. We do anticipate some new projects will be pursued, however, through competitive grants and innovative funding sources.
There are more than 100 projects on the draft "fiscally constrained" (or financially reasonable given the forecasted funding) project list in New Castle County and about a dozen in Cecil County.  They range in size from a $26,000 effort to make interim traffic improvements at the US 40/DE 7 intersection in 2028 to a $1.2 billion project to widen I-95 through the whole of Cecil County by 2050.  Nearly half of the available funding is pinned to major expansion projects, such as this I-95 widening, as well as to capacity along SR 1 and other arterials and major interchanges.