North Claymont Area Master Plan
What's New
Public Open House
May 4, drop by between 4:30-6:30 p.m.
Claymont Library,
400 Lenape Way, Claymont, DE 19703
We invite you to attend this public open house workshop on Thursday, May 4th. Drop by anytime between 4:30-6:30 p.m. to:
Learn about transportation changes and projects in the area
Learn about possible future land use
Review and provide feedback on the Draft 2023 North Claymont Area Master Plan and Governor Printz Blvd Corridor Study Monitoring Report
Engage with and provide your feedback to the planning team
The North Claymont Plan was adopted by WILMAPCO's Council in 2017, and includes recommendations for transportation improvements, land use, and community enhancement strategies for the area. The Governor Printz study was adopted in 2021 and recommends transportation improvements.
A monitoring process has been set up to foster the implementation of the recommendations, respond to changing conditions, and continue engaging the community. The Monitoring Report is a summary of transportation and land use conditions and changes within the study areas, developed by the project partners: WILMAPCO, DelDOT, DTC, and New Castle County Department of Land Use, in support of and coordination with community stakeholders.
Learn more about the north Claymont Plan at http://www.wilmapco.org/ncamp/ and the Governor Printz study at http://www.wilmapco.org/governorprintz/.
About the North Claymont Area Master Plan
About the Plan
The North Claymont Master Plan Area has a mix of industrial, commercial, residential, open space and is located to the north and east of the Claymont Hometown Overlay District. Much of the planning area is currently underutilized and represents a tremendous opportunity for economic development due to its easy access to I-95, I-495, Amtrak Northeast Corridor, public transit including DART and SEPTA, the Delaware River and available utilities.
Notable sites for redevelopment include the Tri-State Mall (41 acres) and former Claymont Steel (425 acres). Tri-State Mall is an older shopping center that opened in 1970 and currently has 513,896 square feet, one of the largest malls in Delaware. In recent years, business activity and occupancy at the mall have declined and resulted in an underutilized commercial center that has significant potential for redevelopment. Currently, SEPTA and DART bus routes enter the mall site and serve two bus stops. The former Claymont Steel Mill shut down in 2013 and plans are being finalized for a group of private companies to purchase the property and remove contamination and structures so that the property may be redeveloped.
The Master Plan analysis will examine the potential for redevelopment to support economic development, access to jobs, retail and services, and transportation by road, rail, water, transit, walking and bicycling. The analysis will assess the potential for a mixed use residential, commercial and industrial area designed to promote economic activity, make public transit successful, walking and bicycling convenient and safe, and provide for a vibrant, livable community. For more information, please contact WILMAPCO by email or phone (302) 737-6205 ext. 118.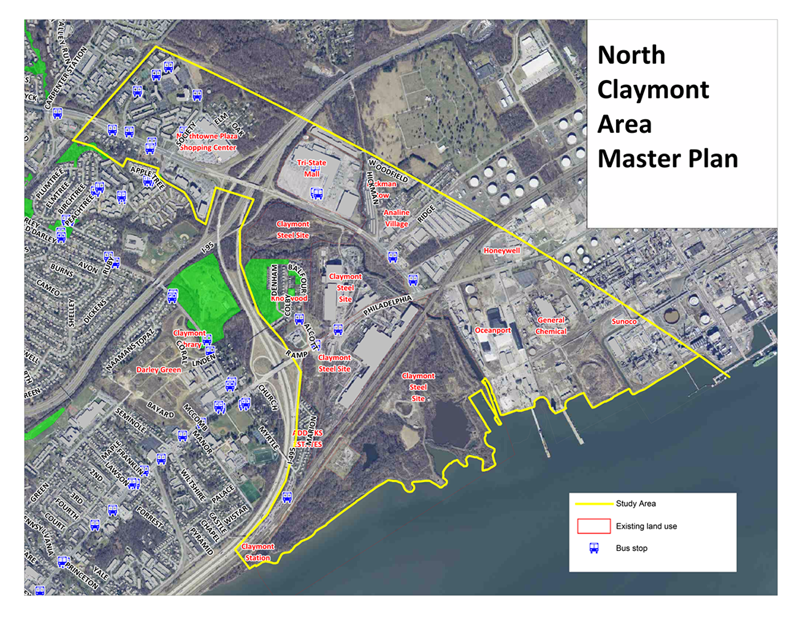 Submit Comments
We want to hear from you! Help shape for future for the north Claymont Area. Share your greatest concerns and your hopes for the future.
Planning Partners
New Castle County and WILMAPCO will be jointly responsible for the co-management of the study and have assigned a designated project manager to coordinate project activities and support.  An Advisory Committee of community stakeholders will provide input on issues, opportunities and constraints, and draft scenarios. This study is a collaborative effort between:
Meetings
Community Updates
Public Workshops
Public Workshop – October 24, 2016, 5-8 p.m. open house, 7 p.m. presentation, Archmere Academy Patio: Flyer, Presentation, Displays
Public Workshop – June 6, 2016: Flyer,  Presentation, Displays, Summary of Comments
Public Workshop, February 3, 2016: Flyer, Agenda/Handouts, Displays, Powerpoint, Summary of Comments
Advisory Committee
Advisory Committee, August 30, 2016: Agenda and Presentation
Advisory Committee, March 21, 2016: Agenda, Survey, Draft Scenario Summary, Draft Scenarios, Presentation
Advisory Committee, December 8, 2015: Agenda and Meeting Notes
Management Committee
Related Plans and Reports