Governor Printz Boulevard Corridor Study
What's New
Public Open House
May 4, drop by between 4:30-6:30 p.m.
Claymont Library,
400 Lenape Way, Claymont, DE 19703
We invite you to attend this public open house workshop on Thursday, May 4th. Drop by anytime between 4:30-6:30 p.m. to:
Learn about transportation changes and projects in the area
Learn about possible future land use
Review and provide feedback on the Draft 2023 North Claymont Area Master Plan and Governor Printz Blvd Corridor Study Monitoring Report
Engage with and provide your feedback to the planning team
The North Claymont Plan was adopted by WILMAPCO's Council in 2017, and includes recommendations for transportation improvements, land use, and community enhancement strategies for the area. The Governor Printz study was adopted in 2021 and recommends transportation improvements.
A monitoring process has been set up to foster the implementation of the recommendations, respond to changing conditions, and continue engaging the community. The Monitoring Report is a summary of transportation and land use conditions and changes within the study areas, developed by the project partners: WILMAPCO, DelDOT, DTC, and New Castle County Department of Land Use, in support of and coordination with community stakeholders.
Learn more about the north Claymont Plan at http://www.wilmapco.org/ncamp/ and the Governor Printz study at http://www.wilmapco.org/governorprintz/.
Report
Report – endorsed January 14, 2021
Draft Concepts Public Workshop – September 21, 2020
An online Public Workshop was held on Monday, September 21, 2020, at 7 p.m.  Planners unveiled five draft concepts that were developed based upon community priorities and technical analysis. The event included a presentation, Q & A, and a survey. The survey is available until October 21, 2020.
Visioning Workshop – January 29, 2020
A Visioning Workshop was held at the Brandywine Hundred Fire Company on Wednesday, January 29, 2020, where approximately 90 community members gathered to share their ideas for improving driving, walking, bicycling, and transit along Governor Printz Boulevard from Claymont to Wilmington.
About the Study
The purpose of this Corridor Study is to improve multimodal mobility, safety, and travel choices while supporting sustainable economic development and enhanced neighborhood vitality. The study will identify and assess the feasibility of multimodal transportation projects that will accommodate current and future transportation and land use needs, including roadway, transit, and nonmotorized travel including the East Coast Greenway. The Governor Printz Boulevard Corridor Study will identify multimodal improvements including transit improvements, a potential for a road diet as well as a trail connecting Claymont to Fox Point/Northern Delaware.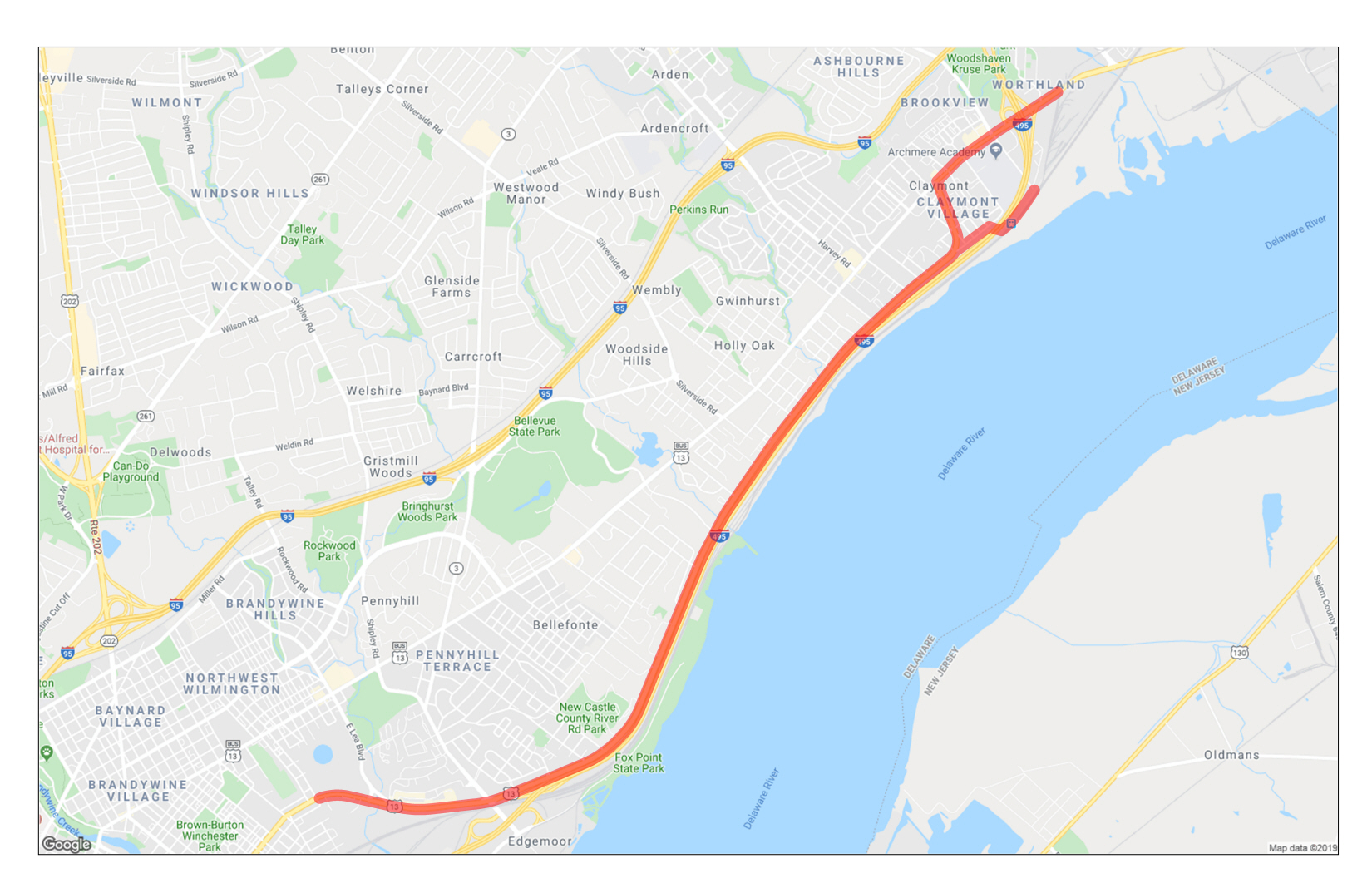 This Corridor Study will be conducted by WILMAPCO in partnership with New Castle County Land Use, DelDOT, DART First State, Delaware Greenways and key stakeholders. Consensus building and establishment of stakeholder support for the plan is a key element in this process. This will be accomplished through a facilitated stakeholder outreach process that will include meetings and interactive workshops. The resulting report will be developed using a collaborative and integrated approach to transportation decision-making that considers environmental, community, and economic issues.
The corridor extends 6.1 miles from US 13, Philadelphia Pike at the entrance to the Claymont Regional Transportation Center to E. 35th Street and Northeast Boulevard at the City of Wilmington line. Governor Printz is a four-lane minor arterial that parallels I-495. Traffic volumes are low, particularly at the northern end. Southern portions of the corridor are served by DART routes 4 and 14. The corridor is identified as the planned East Coast Greenway route between the current Claymont Train Station and the Northern Delaware Greenway. Most of the corridor has shoulders or marked bicycle lanes. There are very few sections with sidewalks and very few crosswalks.
Overlooking the Delaware River, the corridor has a broad mix of residential, park, commercial, industrial, and institutional land uses. Opportunity Zones to promote economic revitalization have been designated in North Claymont and the greater City of Wilmington area, including Edgemoor.
Contact Information
We welcome your feedback! If you have questions or comments, please contact Heather Dunigan by email (hdunigan@wilmapco.org) or calling 302-737-6205 ext. 118.