What's New?
The Steering Committee Meeting – September 26, 2023, at 11 AM at Elkton's Town Hall. This meeting is open to the public.

Printed copies of the survey can be found at:
Cecil County Public Library – Elkton Branch (301 Newark Avenue)
The Town of Elkton Adminstration Offices (100 Railroad Avenue)
The Neighborhood Community Center ((121 Stockton Street)
or by calling 302.737.6205 x110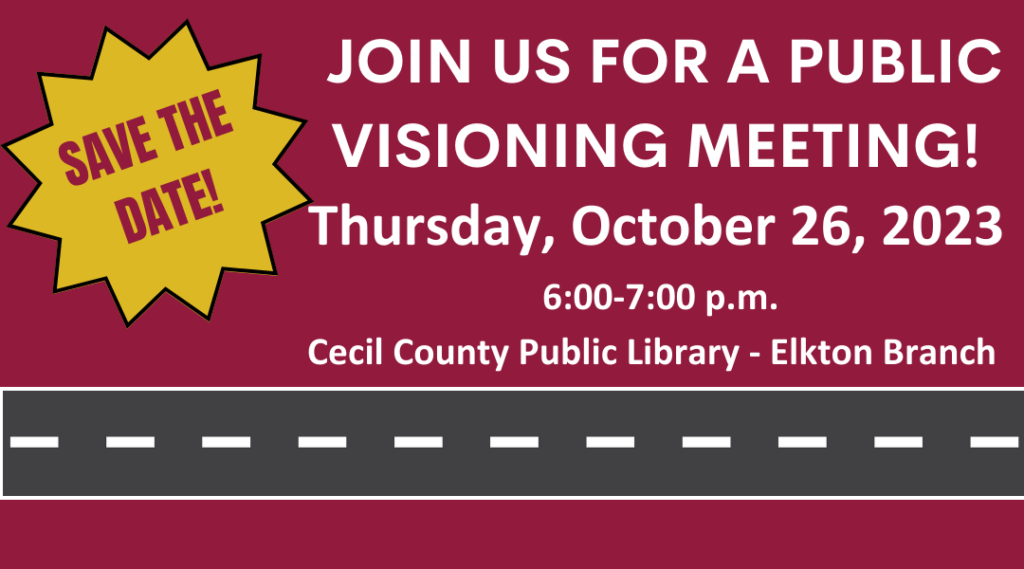 About the East Elkton Traffic Circulation and Safety Plan

At the request of Cecil County and the Town of Elkton, WILMAPCO is in the very early stages of developing the East Elkton Traffic Circulation and Safety Plan (East Elkton Plan).  The Plan will examine transportation improvements to the Delancy Road (MD 781), Muddy Lane, and Belle Hill Road corridors, bounded on the south by US 40 and on the north by Appleton Road (MD 316). It will have five key parts:
Understand and document existing traffic movements.
Evaluate roadway realignments of Delancy Road and Muddy Lane.
Examine and recommend resolutions to land use conflicts near the MD 279/I‐95 Interchange.
Examine and recommend improvements to road safety along all roads, especially Belle Hill Road.
Improve pedestrian and bicycle connectivity to key destinations.
The East Elkton Plan will feature an extensive public engagement process to better understand community needs and preferences for transportation improvements.  We expect it to be finalized in the Summer of 2024.
If you'd like to stay engaged with the Plan, please sign up below!  Contact Bill Swiatek with any questions: bswiatek@wilmapco.org