Newark Bicycle Committee
Events and Meetings
Regular Newark Bicycle Committee meetings are held on the third Thursday of each month, 4 p.m. at WILMAPCO (850 Library Ave, Newark, DE. We encourage participation and all meetings are open to the public.
Welcome spring with Bicycle Training in Newark
Bicycle Mechanics Classes – Getting your bike ready to ride
Newark Bike Project will offer classes for beginners, or anyone wanting to learn more, about fixing your bike. Classes are $10/class and held Wednesdays, April 6 – 27, 2016, 6:30 p.m., at Newark Bike Project. Learn more at newarkbikeproject.org/events/classes.
Smart Cycling Course – Building your confidence to ride
Join League of American Bicyclists (LAB) instructors on Saturday, April 16, 2016
8 a.m.—5 p.m., at WILMAPCO, 850 Library Ave., Newark, DE 19711 for training to
cycle safely and confidently. Participants will receive the LAB Traffic Skills 101 booklet, lunch, and classroom & road instruction. The cost is $30.00 for WCBC Members and $50.00 for non-members (which includes individual membership).  Contact Paul Hess by April 9 to register.
Mayor's Fun Ride
Ap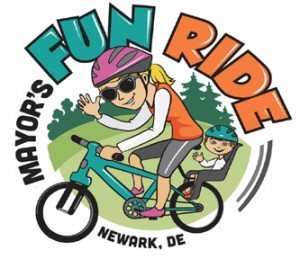 ril 30, 2016 – Download Flyer and registration form or register online. Bring the whole family out to Newark's second annual Mayor's Fun Ride. This event will feature live music, educational and safety information, raffles and door prizes, children activities and either a 2.5 or 8.5 mile bike ride. Free t-shirts will be given to everyone who pre-registers, and to onsite registration participants while supplies last. Please wear bike helmets for the ride. Cost, is $5 per adult, and funds will benefit bicycling programs in Newark. REGISTRATION WILL ALSO BE AVAILABLE ON SITE.
Bike to School Day in Newark
More details coming soon.
Bike to Work Day in Newark
May 20, 2016 – more details coming soon.
Bicycling Resources
Committee Documents and Reports

Local Bicycling Links
Past Events