12th Street Connector Transportation Improvement Study
The Wilmington Initiatives partners (City of Wilmington, DelDOT, DART, WILMAPCO) have begun a transportation planning study to connect 12th Street from I-495 to the Brandywine Waterfront and the 16th Street Bridge. The 12th Street corridor is an important link between I-495, downtown Wilmington, and the Route 202 corridor. The area is underutilized with several vacant properties, and offers no direct route for through traffic. This leads to increased traffic congestion on local neighborhood streets and a lack of connections that can help revitalize the community. The corridor's proximity to downtown, I-495, and the Brandywine waterfront presents a valuable opportunity for redevelopment that can help spur redevelopment and economic growth in the underutilized land along the Brandywine waterfront.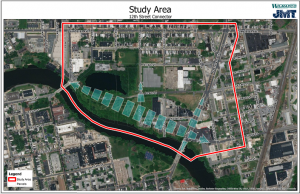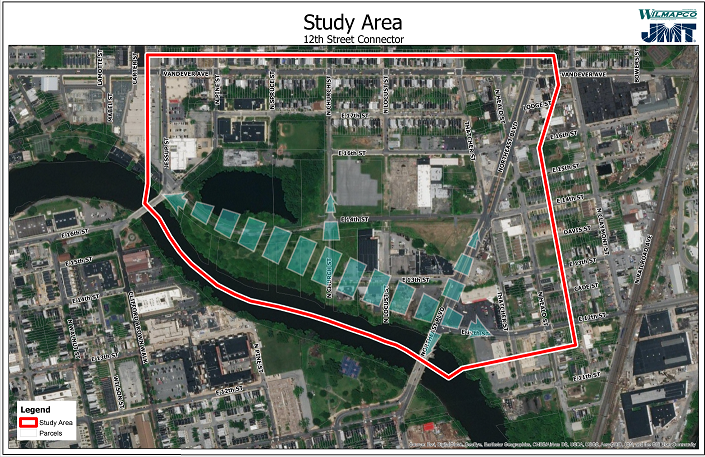 WHATS NEW

Attend a Public Workshop – Wednesday, April 3, 5:30-8pm at the Achievement Center, 38 Vandever Ave, Wilmington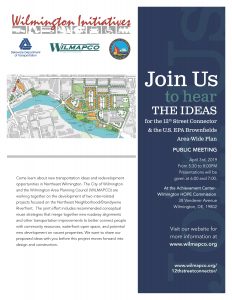 12th Street Draft Report
January 7th Workshop Information
Current Conditions Materials
Wilmington's EPA Study Materials
Alternatives Analysis and Improvements
Click to sign up for project updates!
View June 25, 2018 Workshop Materials
PROJECT PURPOSE
The purpose of this study is to create a reimagined 12th Street corridor utilizing new transportation patterns that generate economic growth and provide more efficient and multi-modal connections for people to access the area. The transportation investments can also incorporate community enhancements and green infrastructure to help beautify the neighborhood and reduce flood risk.
OBJECTIVES OF THE PROJECT
Improve access to the Wilmington Central Business District (CBD) and the Brandywine Riverfront
Improve Multi-Modal Network Linkages, including pedestrian, bicycle, and transit amenities
Improve local traffic operations
Support economic development and job creation
Re-route freight outside of communities
Improve corridor aesthetics and environmental sustainability with beautification and green infrastructure
OBJECTIVES OF THE STUDY
Build community support
Assess opportunities, costs, and impacts
Select a preferred alternative
Create an actionable plan to secure funding and advance the project towards construction
DESIGN CONSIDERATIONS
This study will include an engineering feasibility analysis to determine the best possible alignment and design that is beneficial to the community, limits impacts to sensitive environmental resources, and is cost effective. In addition to traffic and accessibility improvements, the project will incorporate solutions that address factors such as:
Missing sidewalks, ramps, and safe road crossings, particularly around bus stops;
Combined stormwater drainage and sewer systems with potential for sewage overflows;
Floodplains and the risk of flash flooding;
Aging infrastructure that has fallen into disrepair;
Possibility of abandoned underground infrastructure, such as unmarked utilities and foundations from demolished structures; and
Cleaning up areas with potential contamination from previous industrial uses
SCHEDULE
WILMAPCO's 12th Street Connector Project is occurring simultaneously with the City of Wilmington's Northeast Wilmington Areawide Plan for waterfront redevelopment in the same area. Both planning studies will be completed in Spring of 2019. WILMAPCO's 12th Street Connector project schedule is:
April 2018 – Project Initiation
Spring 2018 – Assess Existing Conditions, Opportunities, and Constraints
June 25, 2018 – Community Visioning Public Workshop
Summer 2018 – Develop Conceptual Alternatives
September 2018 – Public Meeting to Review Potential Design Alternatives
Fall 2018 – Develop and refine a Preferred Alternative, Cost Estimate, and Identify Potential Environmental Impacts and Mitigation Strategies
December 2018 – Draft Report Complete
January 2019 – Public Meeting to Review the Preferred Alternative and Draft Report
Winter 2019 – Refine the Preferred Alternative and prepare a Final Plan
March 2019 – Finalize Plan and Prepare for Next Steps.
Stay informed as this project moves forward by checking our website for news and updates. The next steps for this project will continue to involve opportunities for the community to stay informed and provide input. After the planning study is complete, the next steps will include:
Secure Project Funding from Federal, state, and local transportation funding sources
Update Regional and State Transportation Plans to include this project
Initiate Preliminary Design and Environmental Permitting
Coordinate other related infrastructure upgrades and local redevelopment opportunities
Develop final plans for the 12th Street Connector
Project construction
For additional questions, please contact: Dave Gula at (302)737-6205 or email dgula@wilmapco.org.